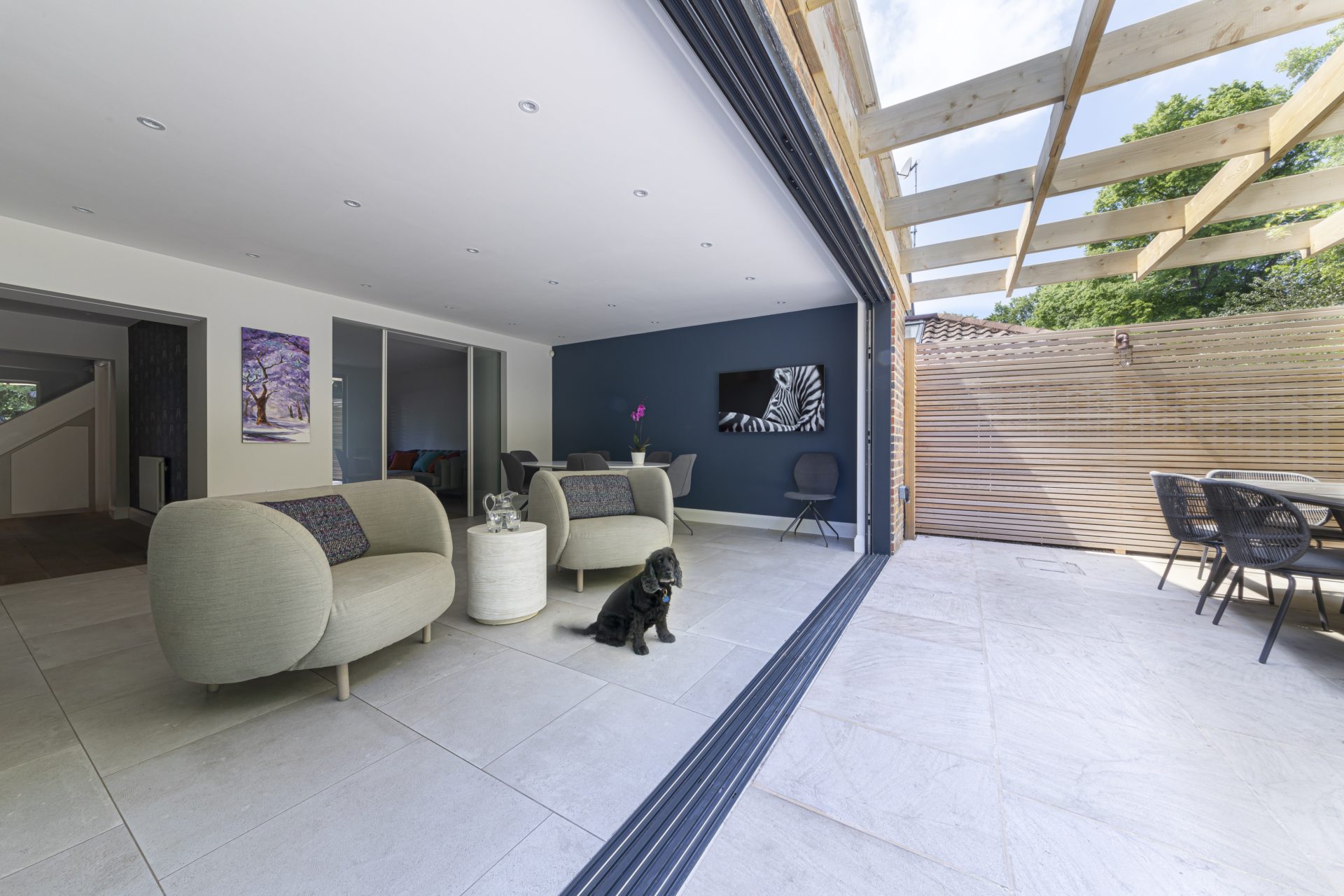 Wimbledon Common
Spacious indoor-outdoor living area with a stunning garden space to relax.
A bright and modern indoor-outdoor living space with an inviting garden area fit for hosting.
This spacious home creates the perfect setting for any occasion. The grand garden space is begging for a social gathering or a relaxing summers day. This client has collected many treasured items in her life along her travels, and therefore it was crucial that these were displayed proudly. Zimbabwe holds particular importance, resulting in an African influence throughout. Numerous bespoke elements were produced for this project, to ensure that each unique piece of decor had it's own place. Everything within this home has been meticulously considered and placed with care.
"

Anna has helped me with a double reception, kitchen and bathroom renovation over the last year. She's incredibly easy to work with and very on the ball/organised. Anna has done an amazing job taking my ideas (somewhat disjointed and eclectic at times!) and brought them together to create a space that is clean and modern but still fits with the space (Victorian maisonette) and incorporates my taste. She has a great roster of professional, friendly and efficient workmen she uses and they've all been great to work with. I will definitely be using her again for future projects!

"

Incredibly easy to work with

EH

"Anna got us, right from the get-go.  She understood our style and what we wanted after meeting us to discuss our project.  Anna has helped us achieve a house that felt like home. She came up with fantastic and new ideas that we hadn't thought about; she has an amazing attention to detail and is always on hand to find some little extras, or source the actual items that we like from pictures in magazines. Her knowledge and understanding was well worth every penny! We could not recommend her highly enough, she's just been brilliant!"

Helped us achieve a house that felt like home

AG

"

We have just finished a project with Anna in our new home and we absolutely love the results. From the off Anna understood what we were trying to achieve and she has definitely delivered this and more. Working with Anna has been great, she is professional but at the time so personable and approachable and is always literally on hand / phone / email for any questions. Her network of industry contacts is first class and her co-ordination of all the tradesmen just brilliant. I would 100% recommend Anna and we will use her again for any future interior design work we may need.

"

We absolutely love the results

DK

"It has been a godsend! I was looking for someone who would help understand our style and take the pressure away of looking for items, and Anna did just that! We have completely redecorated our home and it has been looking and feeling amazing! The process was seamless, swatches were posted almost immediately. Would highly recommend Anna! She has got a great design sensibility and is extremely professional to work with!"

Great design sensibility

AV

"Anna was very through in understanding the concept.  One of the benefits of working with Anna is that she pushed our usual boundaries, and introduced us to designers and brands that we would never have known. She also has a network of reliable tradesmen that make all the difference. We are very happy with our flat and very pleased to have found Anna, and would highly recommend her! She went over and beyond  with all her help in these challenging times."

Anna introduced us to designers and brands that we would never have known.

VM
Individual and inspired interior design, creating the place you want to come home to.
Your next project
Please feel free to contact me for an initial no-commitment conversation.
Contact me